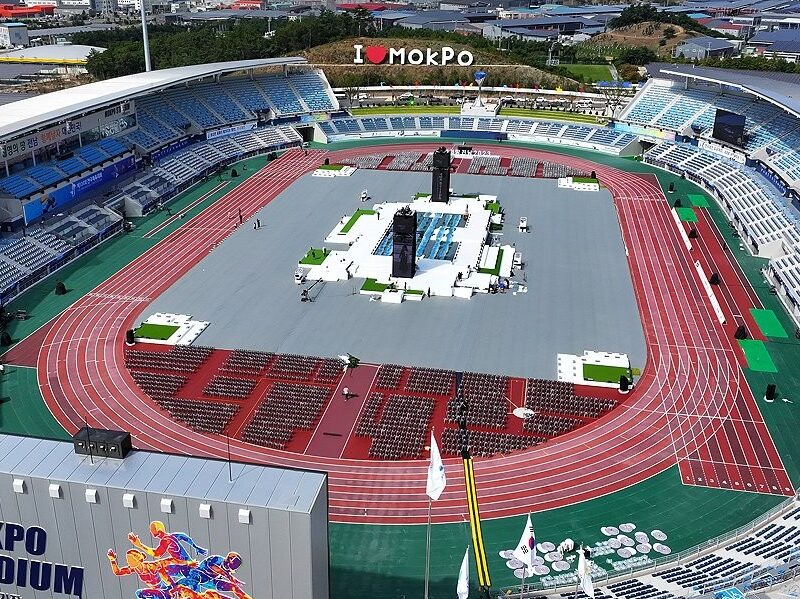 Jeonnam-do held a welcoming ceremony for athletes from provinces and overseas who are participating in the 104th National Games at the Shinan Beach Hotel in Mokpo on Wednesday afternoon. The event consisted of performances, welcome speeches, congratulatory remarks, replies, flower necklace delivery, and performances. Unlike previous welcoming events held by provinces, the event was organized as a place for the participating athletes' delegations to gather together and pledge their commitment to the success of the National Games.
Jeollanam-do Governor Kim Young-rok, Jeon Jeon-sun, vice chairman of the Jeollanam-do Provincial Assembly, Mokpo Mayor Park Hong-ryul, Mooan County Governor Kim San, Yeongam County Governor Lee Won-hee, Jeollanam-do Athletic Association President Song Jin-ho, Korean Sports Federation President Lee Ki-heung, World Federation of Korean Sports Federations President Jeong Ju-hyun, National Council of Provincial Athletic Associations President Lee Won-sung, and more than 250 athletes. In his welcome speech, Governor Kim Young-rok said, "I expect the impression of the Hangzhou Asian Games, where the athletes shone with passion and determination, to continue at the National Championships." "I welcome the athletes to Jeonnam and wish them great success," he said.
"I call on all of you to join forces to develop Korean sports centered on the National Games, which is the heart of Korean sports," said Lee Ki-heung, president of the Korea Olympic Committee. The 104th National Games will be held from July 13-19 with 49 sports events at more than 70 venues across the country, including the main venue, 온라인카지노 Mokpo Sports Complex.